Annie Lockamy
O: 850-226-2888
if (!empty($social)): ?>
endif; ?> if (!empty($social)): ?>
endif; ?>
Annie on the A
Get to know Annie.
She grew up on a beautiful, working farm in Tennessee. Her father was a real estate auctioneer and broker, which allowed Annie to witness the joys of helping families find their place in the world. It became a dream and goal for Annie to someday do the same. However, her life took a different track; music tracks and racetracks that is. She co-owned BLT Management, a music management company and LAR Motorsports a NASCAR team. These businesses provided Annie the opportunity to travel the country, meet lots of unique people and experience the exciting, fast-paced music and racing industries.
As far back as Annie can remember, her family vacationed in the gorgeous panhandle of Florida. After buying a family vacation home in Seagrove in 2003, she began spending much more time on 30A and the surrounding areas. During this time, she put her eye for details to work and joined a local wedding planning team. While scouting perfect wedding locations, Annie was often provided with a peek inside many of the magnificent homes and spaces along Scenic 30A and Destin.
Upon meeting her fiancée on 30A, along with many amazing friends, she decided the beautiful beaches and coastal dune lakes were her place in the world. This has been over thirteen years ago and during this time Annie enjoyed buying and selling her own properties.
Annie and her fiancée love to fish! They will delightfully coast on our clear coastal waters and bays looking for redfish, tarpon, snapper, and of course anything else that lands on her hook!
Annie knows firsthand that everyone has their own dream of what luxury means to them and she can't wait to help make dreams come true!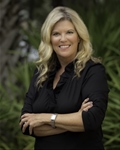 Annie Lockamy
Sales Associate, REALTOR®
Coastal Luxury


9961 East County Highway 30A, Suite 1




Seacrest

,

FL

32413


Phone:

850-226-2888